Every other month, we meet at Elizabeth's House to feed others because that is what the word of God requires of us. We also use this as an opportunity to share our messenger angel, The Rhapsody Of Realities, with all those whom we come in contact with.
Serving at Elizabeth's House is our way of giving back to our community and is also part of Our Inner City Mission's Project. Please visit our Partnership Arms tab to learn more about the Inner City Missions and how you can be a influential partner. We invite you to please join us on the First Friday of every other month to serve the needy as the word of God requires.
—————————————————————————————————————————————————————
Address: 308 Gorman Ave, Laurel, MD 20707,
Contact: Pastor Beatrice:(301) 674 – 7038
Time: 5PM – 6:30PM.
---
This project supports families and members of the community who are struggling financially or otherwise, by providing them with basic necessities for day-to-day living such as socks, sweaters, hats etc., including food items. At the end of the Program, the beneficiaries receive a special package with our Rhapsody of Realities to help them start up or reignite a relationship with to Christ and live up to their full God given potential. Below is a picture from one of our visits to Elizabeth's House.  We had an amazing time sharing food to members of the community and impacting them with our messenger angel – the Rhapsody Of Realities.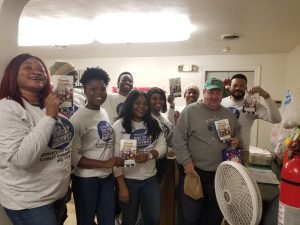 ---
In December 2018, on behalf of our man of God, Rev. Dr. Chris, we fed the members of our community and the highlights of that day are captured in the video below. Watch and be blessed.